This is a casual recurring happy hour for new and old Miamians interested in connecting with fellow entrepreneurs, investors, tech folks!
About this event
This is a casual recurring happy hour for new and old Miamians interested in connecting with fellow entrepreneurs, investors, tech folks, and a diverse group of awesome people. Come grab a drink and catch up!
A few logistical details:
We host this gathering every other week, at the FREEHOLD – find us in the outdoor area!
We start at 6 PM. It usually lasts for a few hours – come and go when works for you.
There is street parking around the area.
By attending, all participants commit to upholding and being subject to our Code of Conduct.
By attending, participants also acknowledge and grant permission for the use of photographs they may appear in for promotional material by the organizers or sponsors. If you would like to rescind this permission, please contact us directly.
Hope to see you soon!
Natalia + Chris
(if you need to find us, here's what we look like, courtesy of Alfonso Duran)
August 31
No happy hour on this day – summer schedule 🙂
Sept 6
Come toast to MDC's birthday! Join us for complimentary drinks and bites to connect with the Miami Dade College community and fellow entrepreneurs, investors, coders, creatives, and community builders in tech industry. MDC alumni, students and friends also welcome.
Miami Dade College opened its doors on Sept. 6, 1960. Every year on Sept. 6 – officially proclaimed as "I AM MDC DAY" in the city of Miami and across Miami-Dade County – thousands of alumni, students, friends, faculty, and staff come together to give back and celebrate MDC's community-wide impact. To celberate this milestone, consider donating to a student today at mdc.edu/iammdc. Happy Birthday MDC! #IAMMDC

Also on Sept 6th…
Have you recently moved to Miami and are unsure how to get involved with the local community? Exercising your civic duty at the ballot box is a great start. Stop by the Engage Miami's table and learn why updating your voter registration is so important! Engage Miami is a local non-profit building young people's civic equity and power through voter engagement, civic education, and leadership development.
Did you know that the City of Miami is having municipal elections this year? Municipal elections have lower voter turnout than midterm and general elections, meaning our votes count so much more. This November, residents of the City of Miami will be electing new commissioners for District 1, District 2, and District 4. Almost 1 in 3 registered voters in the City of Miami are Gen Z or millennials, but in 2021, the turnout of voters ages 18-35 was only 4.5%!
Due to new state laws, you must now present two form of IDs to register to vote. So please bring a Florida ID and the last four of social security number to register to vote with Engage Miami!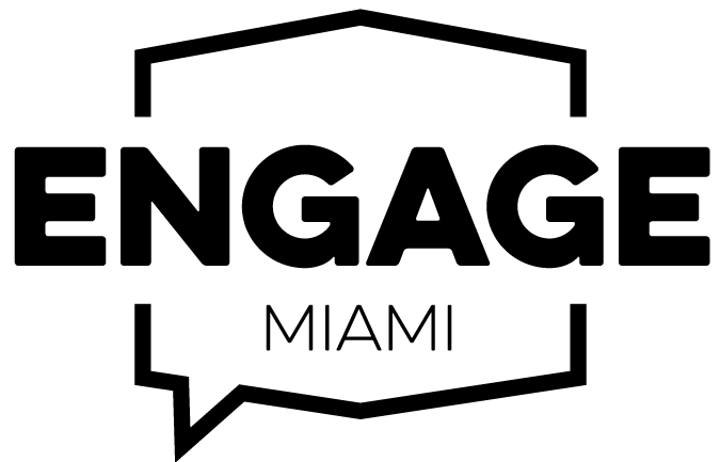 And as always, a rowdy thank you to our location partners: